Customer Reviews
Filter Reviews:
board
waves
quiver
surfing
riders
volume
boards
rocker
wave
river surfing
10/20/2019
Tony R.
United States
Very fun board
I'm new to river surfing, so my perspective is limited. That said, I love this board! It's the right mix of agility and stability for our local play wave (in Dayton, Ohio).
04/12/2019
Earl R.
United States
Love this board.
Super fun shape that is easy to get on waves and is very dynamic. Lots of speed and plenty of performance. I can share this board with many different rider types an everyone loves it. Nice work BadFish.
Big fun!
Conclusion from my SUPzero review: The Wavo is a great inflatable river surf board for not too heavy paddlers with access to a fast wave with a good eddy. For those who come from surfing, it may be a bit large, and lack edges, but for those who come from SUP, this is a tiny board. It is so much more agile than any SUP you may have used, and thus requires a very precise surfing technique. As such, it is a fantastic tool to fine-tune your river surfing skills, and with the Badfish pro riders as examples, we all just know that there is so much left for us to learn on this board. If you are serious about river surfing, I can recommend the Badfish Wavo as a fun and fairly priced addition to your river quiver. Complete review (I hope the link is preserved here): http://supzero.com/reviews/16231-independent-review-badfish-wavo-sup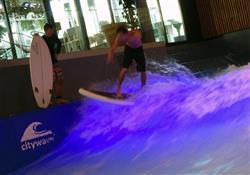 F. U. N. -nuff said
You need this board in your quiver. This boards adds another dimension of fun to my quiver! I've surfed the WAVO several times now and I'm quite surprised just how responsive it is. Badfish knew what they were doing with this egg shaped board. The rocker fits perfectly on many wave shapes and the extra volume makes catching waves and staying there easy. This board will be great for teaching new river surfers how to catch and stand up on a wave. It's forgiving for teaching and has the performance advanced surfers will love too. I also love to add a paddle to the WAVO and make this board a super sporty trick sup!
The evolution of river surfing continues with the WAVO!
I had the opportunity to surf this board on multiple occasions last fall in Japan. Kudos to Zack Hughes for designing an incredibly versatile, fun, and forgiving board. The WAVO has the length and rocker profile to catch all but the slowest waves. With the extra volume (compared to iSK8) it is easier to pop up and stay surfing. While the WAVO doesn't replace the ISK8 in my quiver, it will surely have it's fair share of use next season, especially when I want to walk up to a wave and be able to surf no matter the conditions.